Ill-fated First Date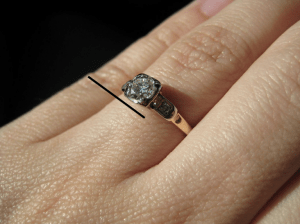 Summary
Our goal was to make a silent film that was no more than 2 minutes long. As the director, I had to control movement and blocking in order to tell the story without dialogue.
21st Century Skills
During this session, we mainly worked on communication and collaboration. We had one actor who wasn't in our class so we needed to line up ou film schedules during the week of production in order to be able to film outside of school.
The Film
Reactions to Final Version
A fellow director, Cassy stated that she thought that "not only did the shots look satisfying, but [she] liked the very well planned blocking" and that "they each had a meaningful message". One of the members of the professional's board, James stated that "first scene blocking worked to communicate secret of the wedding ring". Overall, it seemed that the blocking worked throughout the film, but specifically in the first scene.
Evaluation of Final Version
Our film was unexpected because it ended with a twist. Our film was emotional as it told a story of a relationship between two people. It also told a story. Our film was fairly simple as well, telling a story with a concept that is easy to grasp.
What I Learned and Problems I Solved
I learned how to block actors effectively and how to move characters in order to tell a story. One of the problems I solved is finding times where our actors were available because one of them wasn't in our class so we couldn't film during school.